Battle Spirits Championship 2018 -Shin Kourin Cup-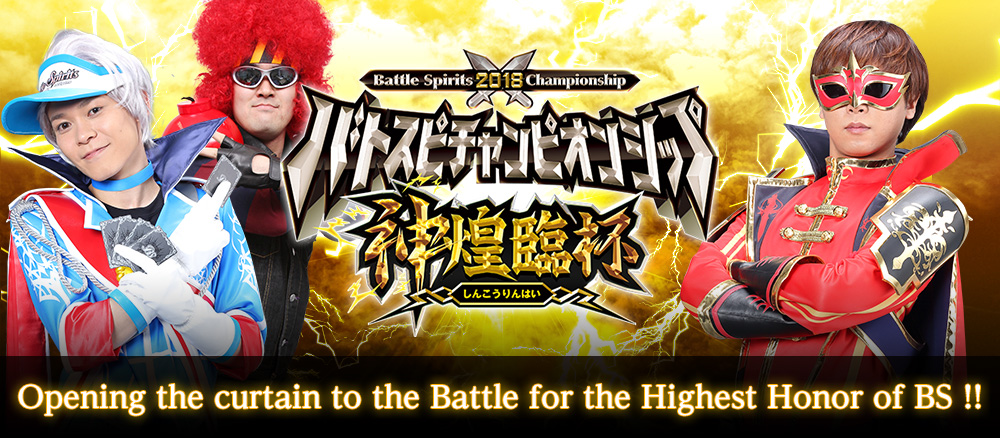 Battle Spirits Championship 2018 -Shin Kourin Cup-
The Champion of Asia Region will be invited to participate in Championship Final at Tokyo, Japan!
Event Schedule for each region
Battle Spirits Championship 2018 -Shin Kourin Cup- Taiwan Tournament
Date
February 17th, 2019 (Sun.)
Venue
Taipei Innovation City Convention Center
(No.223, Sec. 3, Beixin Rd., Xindian Dist., New Taipei City 231, Taiwan)
Battle Spirits Championship 2018 -Shin Kourin Cup- Singapore Tournament
Date
February 17th, 2019 (Sun.)
Venue
TOG Flagship Store @ Bugis+
Battle Spirits Championship 2018 -Shin Kourin Cup- Malaysia Tournament
Date
December 23rd, 2018 (Sun)
Venue
KLCC(Comic Fiesta)
Battle Spirits Championship 2018 -Shin Kourin Cup- Thailand Tournament
Date
February 3rd, 2019 (Sun)
Venue
Palladium IT Pratunam Building
Battle Spirits Championship 2018 -Shin Kourin Cup- Hong Kong Tournament
Date
February 24th, 2019 (Sun)
Venue
Hong Kong Convention and Exhibition Centre, inside C3AFA Hong Kong
Battle Spirits Championship 2018 -Shin Kourin Cup- Final
Date

In April, 2019

Venue

Tokyo, Japan
Participation Prize
BS44-CP02
Young GranWalker Lolo
Battle Spirits Championship 2018 -Shin Kourin Cup-
New Tournament Regulations
In order to provide a fairer and easier environment for the participation of this competition,
"Battle Spirits Championship 2018 -Shin Kourin Cup-" will implement a new tournament regulations.
New cards that are released within one week of their respective official release date cannot be used at Championship event.
* this is to ease the unfair situation caused by some players who are unable to purchase new products on the day when its sold.
* only applies to this Championship event, does not apply to monthly shop tournaments.
More details will be updated on Facebook Page!