Awesome Cards
[BS46] Gran Radiant Descent Saga Vol.3 Fate of the Gods

Click the cards for larger images!
Purple
♰Doll♰Requiem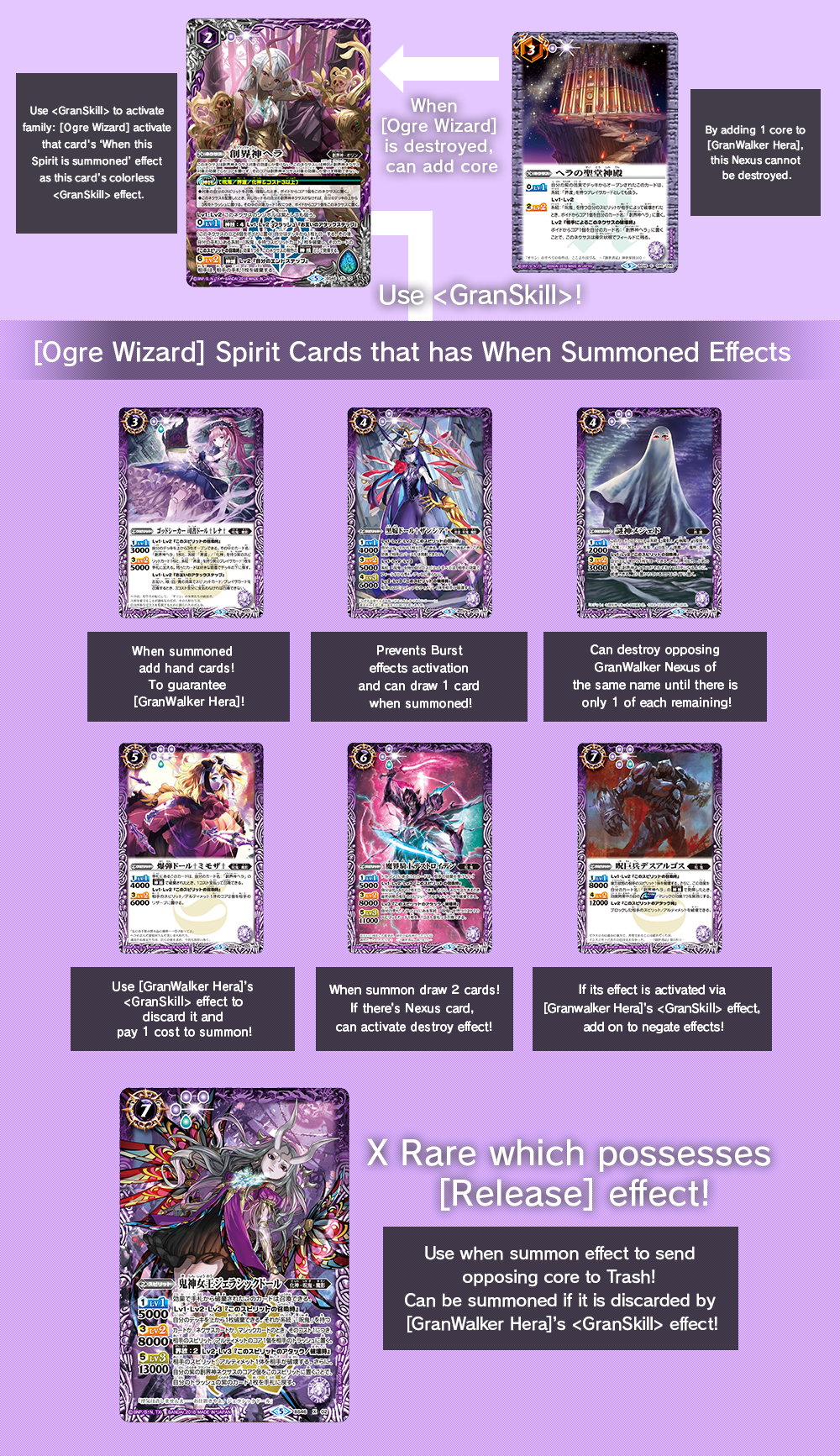 Build a deck which can freely use [Ogre Wizard]'s when summoned effects with [GranWalker Hera]'s as the key!
Increase hand cards while preventing opponent's attack.
Finally use [The Ogre God Queen, Jealousix Doll] to send opposing cores to Trash and advance on the opponent!
Green
Winged Beast & The Seven Beast Heroes!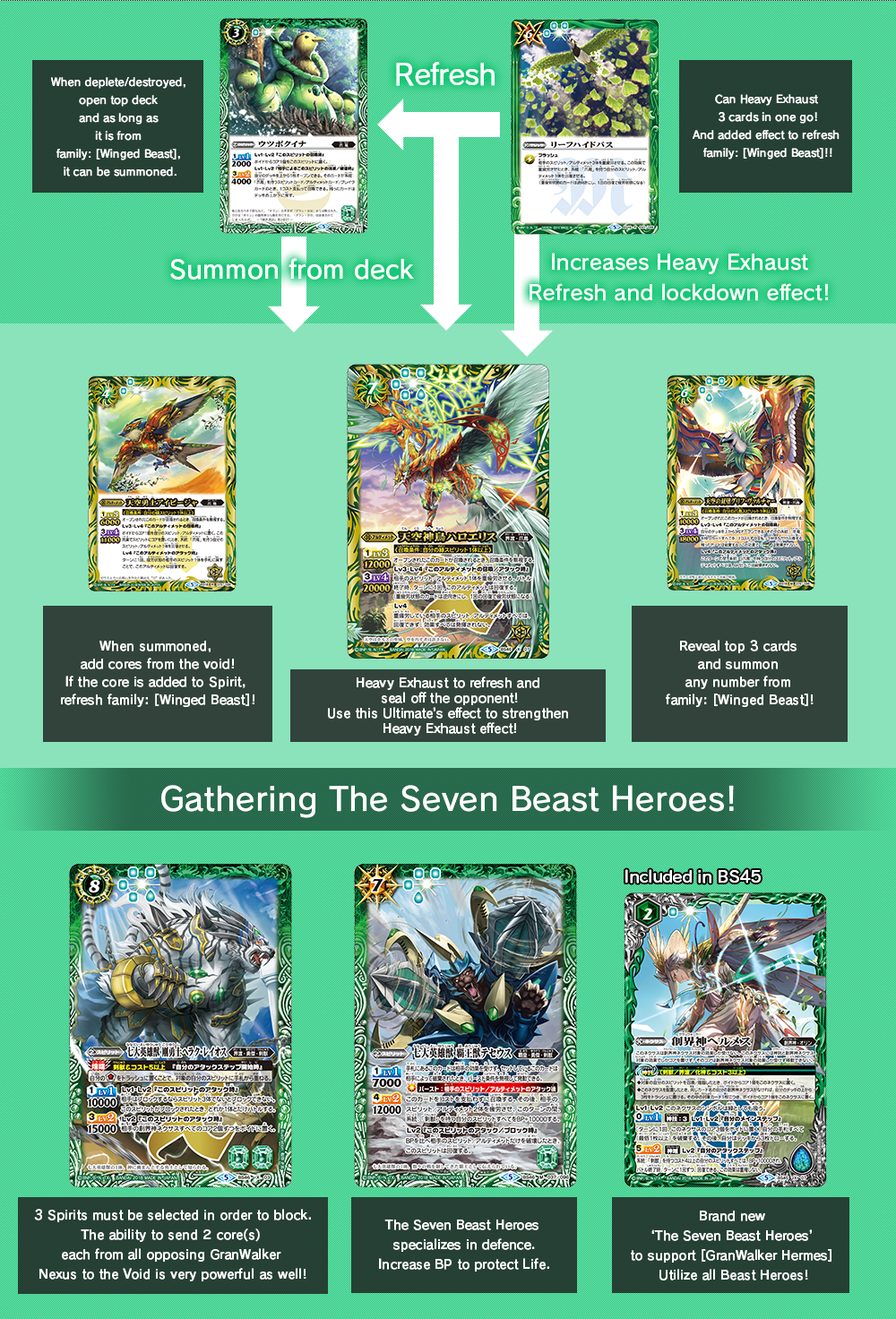 An Ultimate card with Heavy Exhaust effect from the family: [Winged Beast] appears!
Limits the movement of Heavy Exhausted Spirit/Ultimate cards, continuously attack while your opponent is unable to fight back and go for the win!!
Use the completed 'The Seven Beast Heroes' deck!!
White
The Impregnable Iron Knights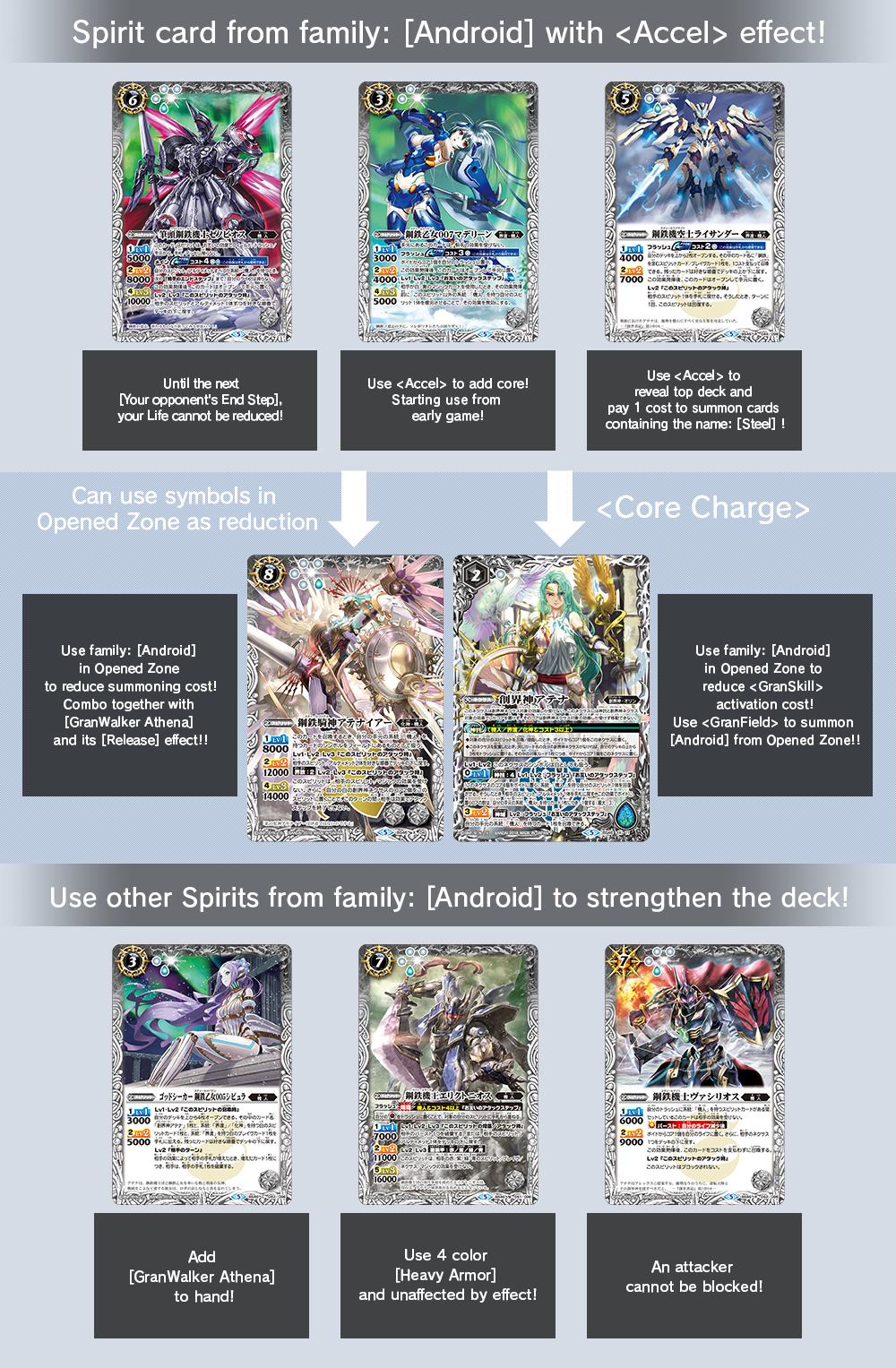 Build a deck with the brand new 'Olym' [GranWalker Athena] as key, combining Spirit cards with
from family: [Android].
Adding on White high defensive effects, use battle tactics to return opposing Spirit back to hand or deck!
Finally use [Steel Goddess, Athenai​a]'s double symbols for the decisive win!
Yellow
Egypt's Highest GranWalker Ra joining the fray!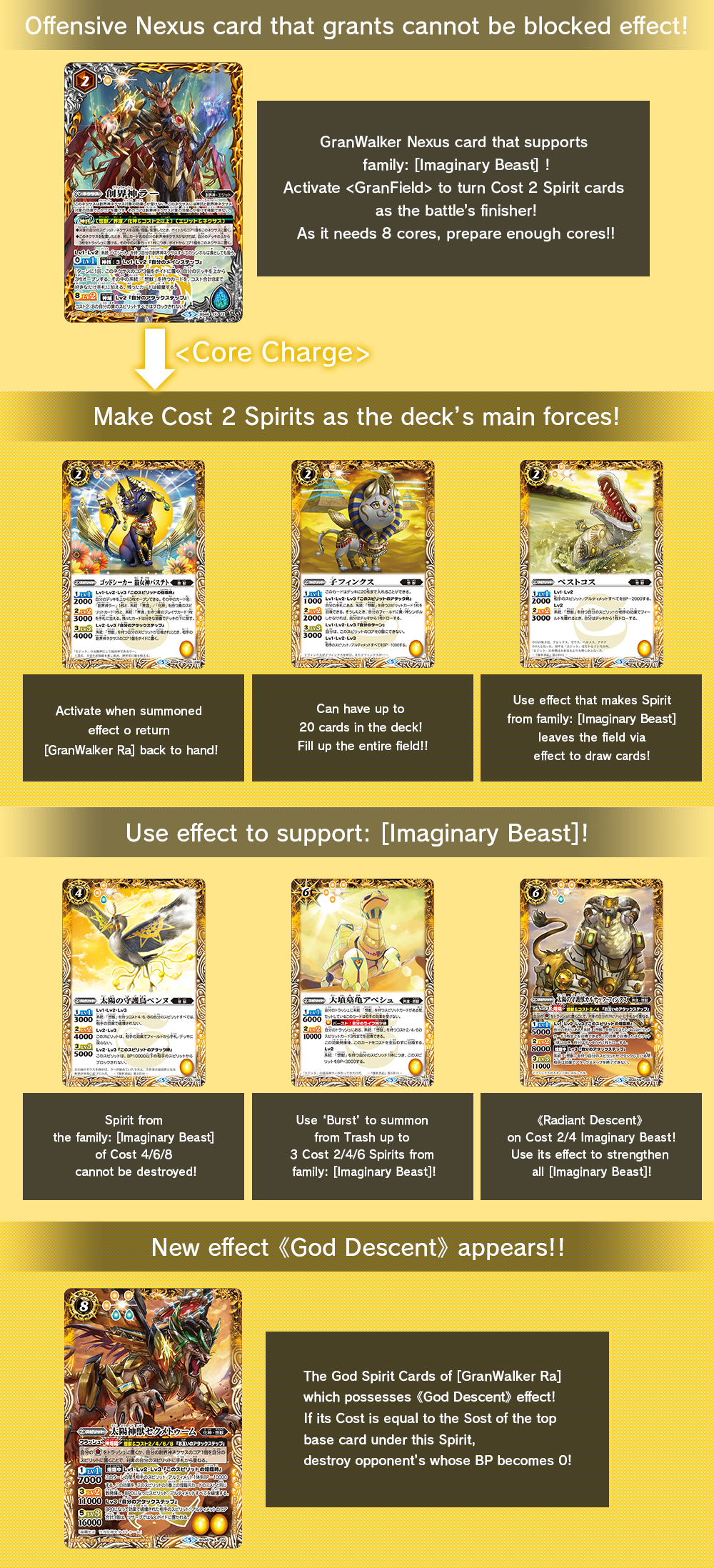 Egypt Sun God, the Highest God [GranWalker Ra] joining the battle. Support family: [Imaginary Beast] and Cost 2 Spirit card!
[The Sun God Beast, Sekhmet Tomb] can destroy Spirit/Ultimate card, at the same time send a total of 3 opposing cores to void! Use this new effect to 《God Descent》!
Red
Use [Z]'s fierce attack to burn up opponent's field!!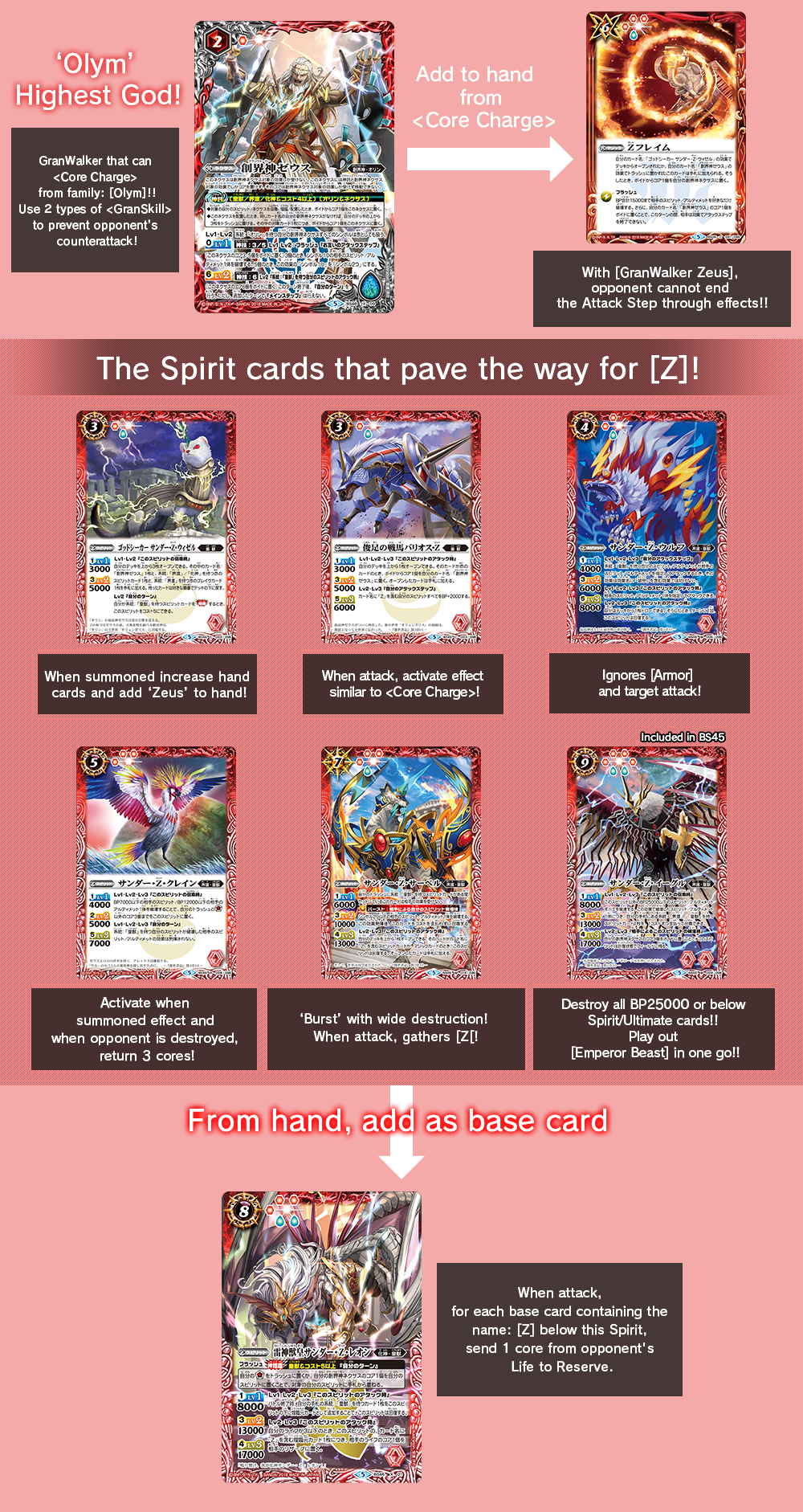 [GranWalker Zeus] which supports family: [Emperor Beast] and possesses 2 types of powerful appears!
Early game, use [Emperor Beast] with effects that destroy opposing Spirit/Ultimate cards, suppress the opponent while using !! The killer blow is when all of [Z] power is gathered on [GranWalker Zeus]'s Avatar [The Lightning God Beast Emperor, Thunder Z Leon], reducing all of opponent's Life in one go!!
Blue
[GranWalker Set] Super Power Up!!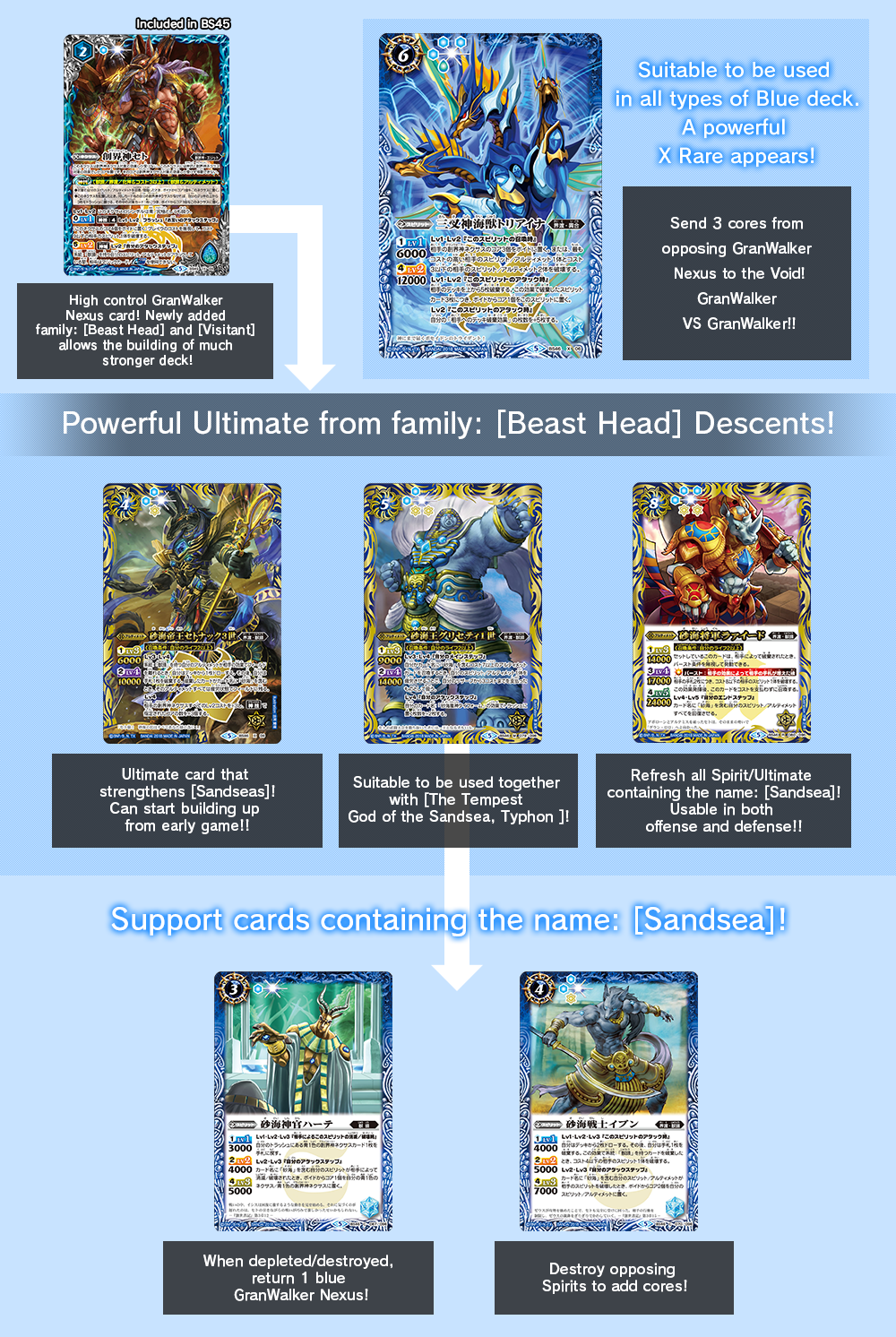 Strengthens [GranWalker Set] from previous volume BS45!
Added easy to use Ultimate cards making battles more advantageous!!
Also, [The Trident God Ocean Beast, Triaina] which can hinders opposing GranWalker Nexus appears, further increases field control!!
Throw off your opponent to create an advantageous situation!
See more