Awesome Cards
[CB06] Collaboration Booster Kamen Rider
Kamen Rider Dash towards Destiny

Click the cards for larger images!
White
Den-O Super Climax Form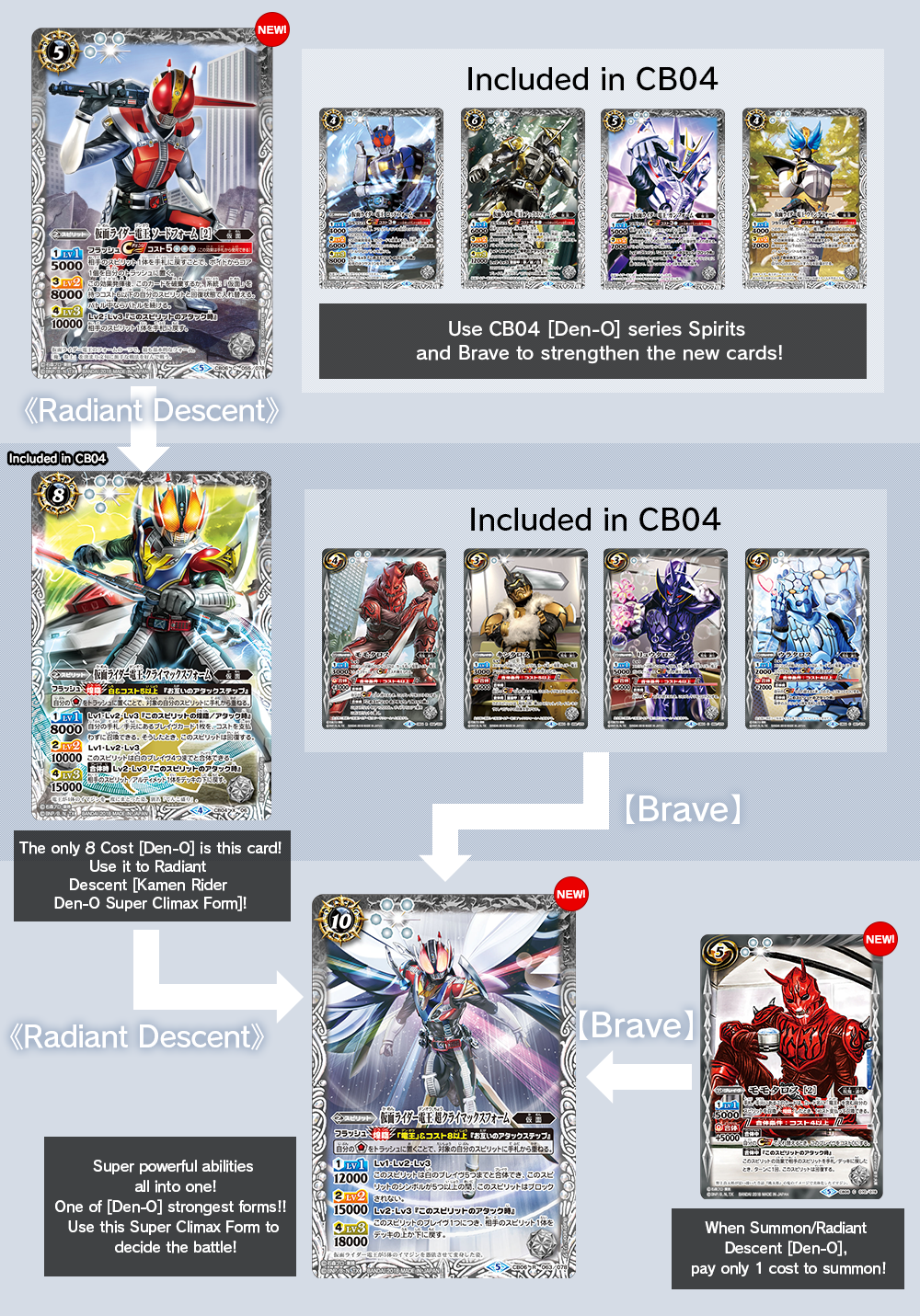 Brand new support cards for Kamen Rider Den-O from CB04 Kamen Rider Collaboration Booster!
[Kamen Rider Den-O Super Climax Form] can brave with up to 5 white Braves, and while this Spirit has 5 or more symbols, it cannot be blocked.
It is a One-Hit Kill ability.
Not only can it 《Radiant Descent》 on [Climax Form], it can do so as well on other forms which fulfilled the Cost 8 requirements through Brave.
Brave card [Momotaros [2]] can strengthen [Kamen Rider Super Climax Form]!
Red
Rising Power Explode!!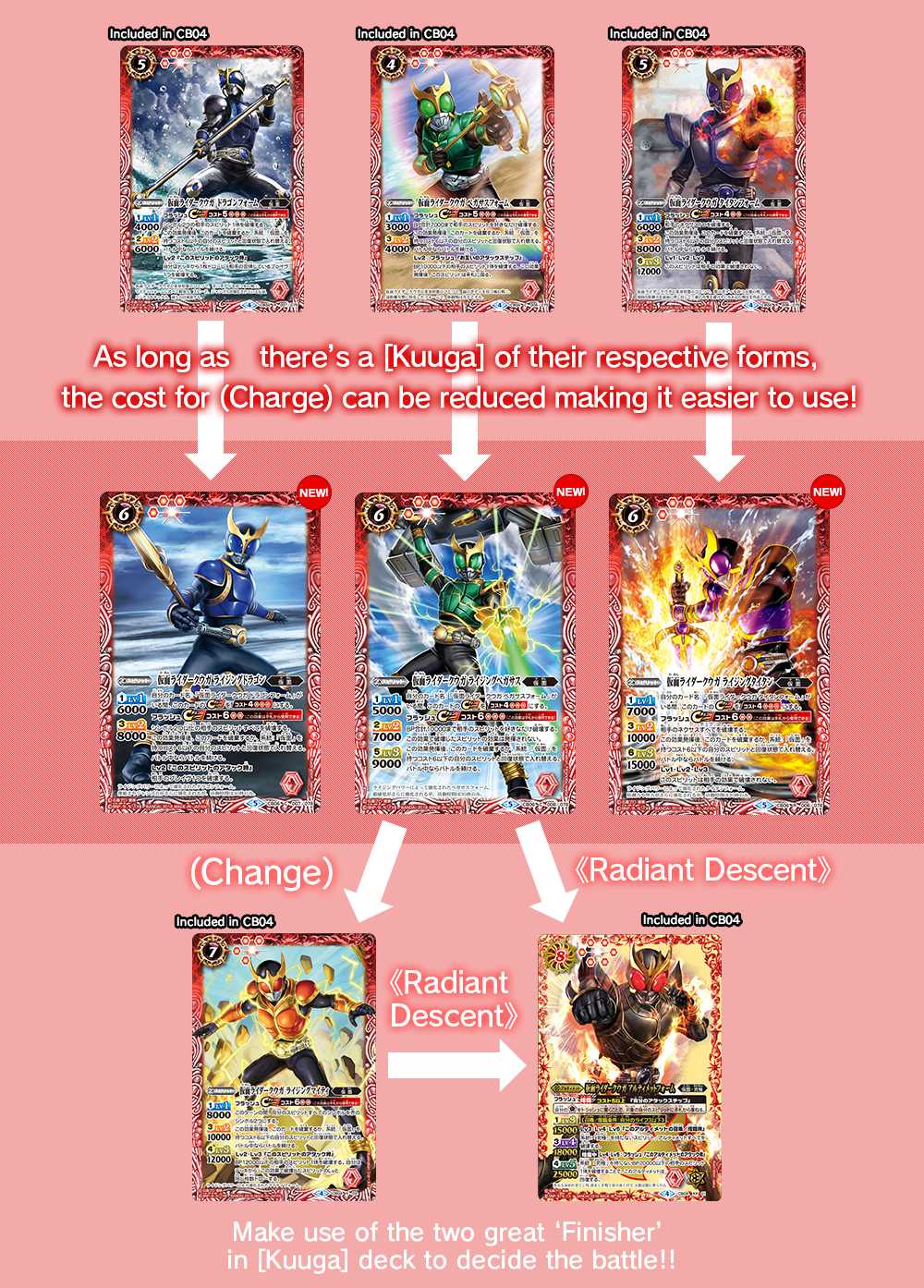 Kamen Rider Kuuga Red deck will be adding brand new cards!
Use cards strengthened with 'Rising Power' – [Rising Titan], [Rising Dragon], [Rising Pegasus]
As long as there's a [Kuuga] of their respective pre-power up forms, the (Change) cost can be reduced.
Build a deck together with Kuuga from CB04!
Green
Let me count your crimes!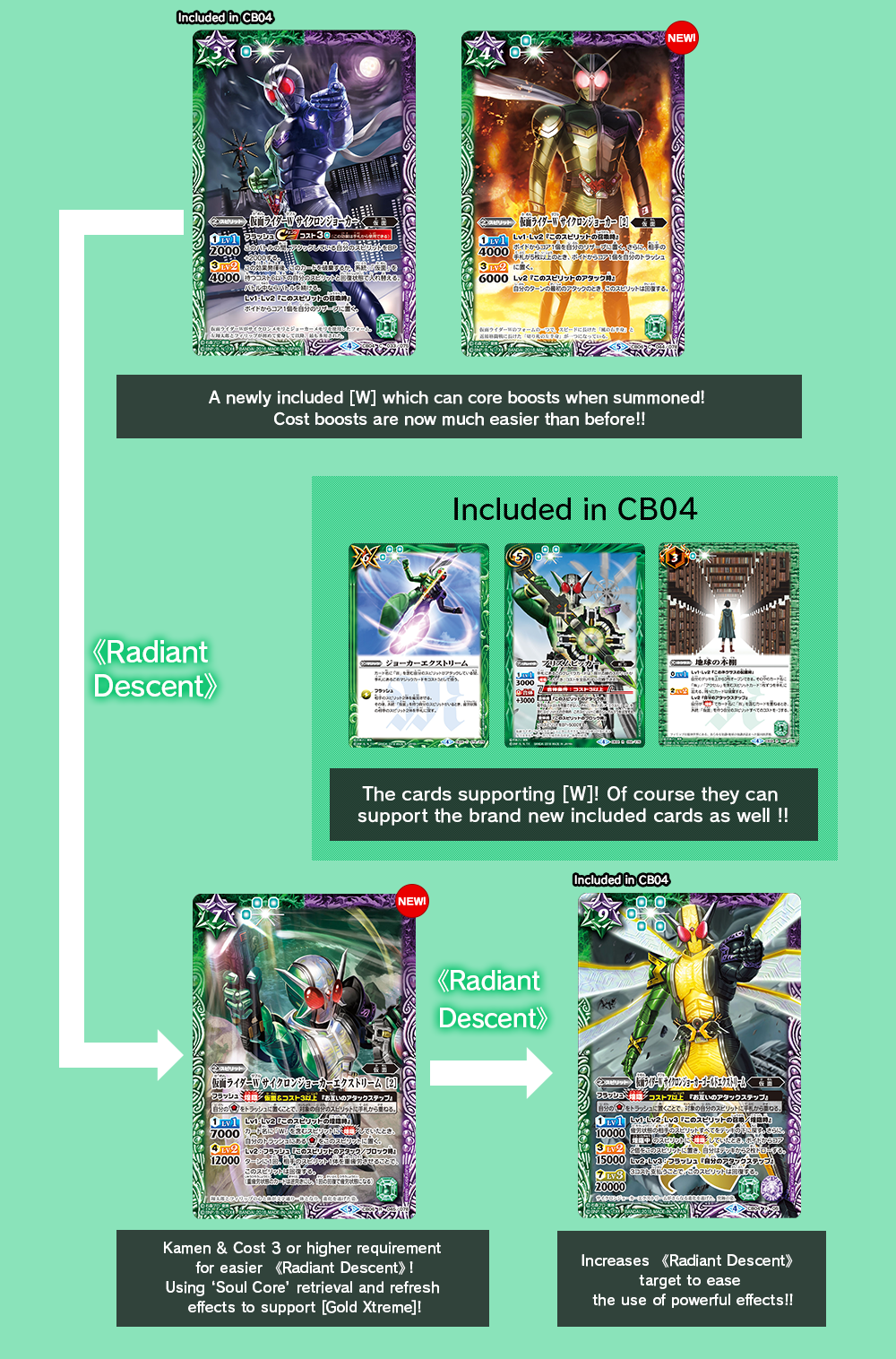 Brand new Kamen Rider W cards appears!
[CycloneJoker [2]] can core boost during early game, easy to included in W deck.
Newly added support for CB04 [Gold Xtreme] – [Xtreme [2]], to build a much stronger deck!
Purple
Onslaught of the Orphnoch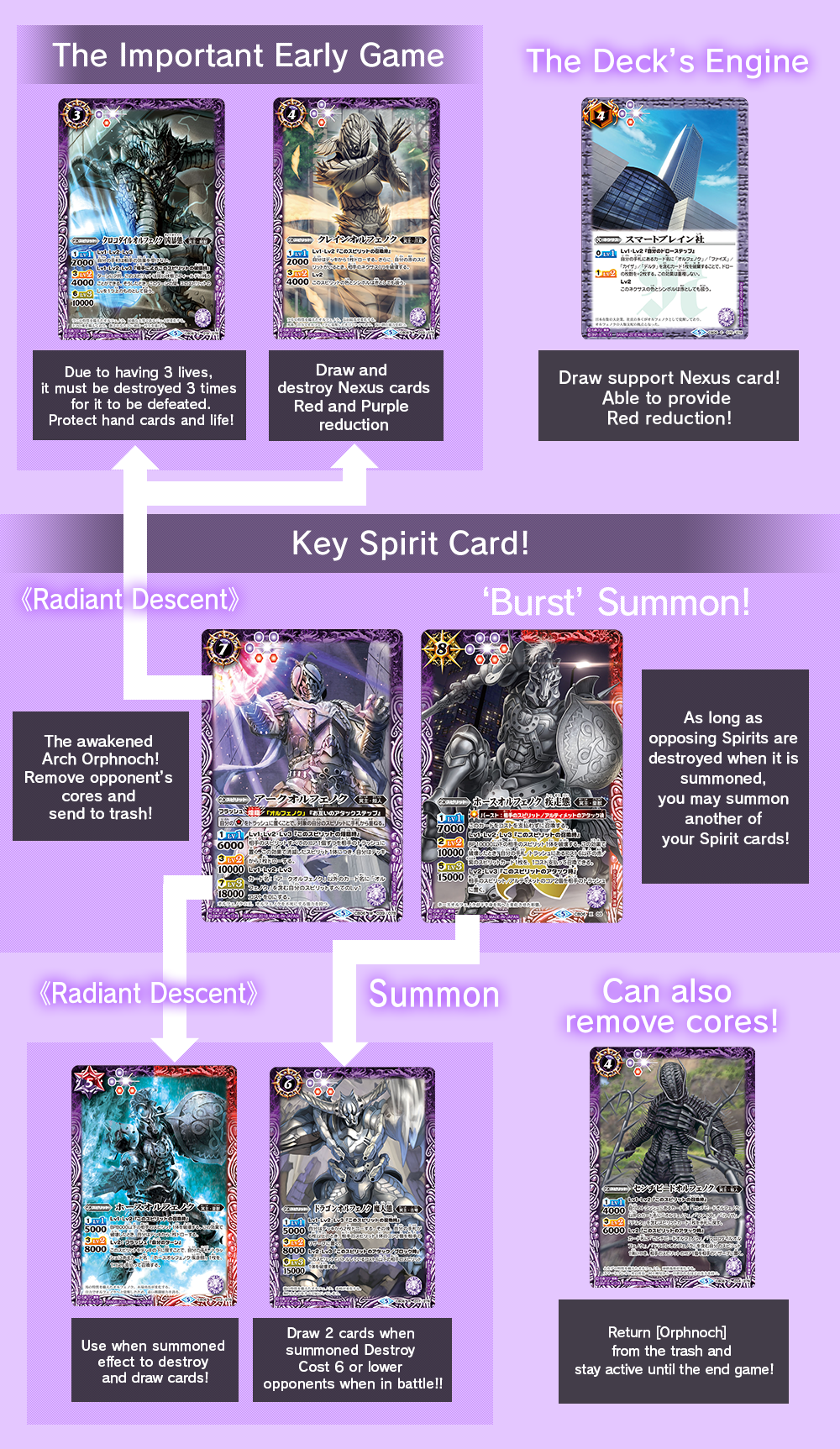 Gather a series of cards containing the name: [Orphnoch], and support each other in battles!!
Use [Arch Orphnoch] to have all Orphnoch Lv1 cost treated as 0, then use [Horse Orphnoch Sprinting State] to reduce opposing Spirit cards while summoning own Spirits.
While using cost removal effects to suppress opponent, make use of the difference in numbers on field to advance on your opponent!
All Color
Utilize (Change) to activate Build's genius abilities!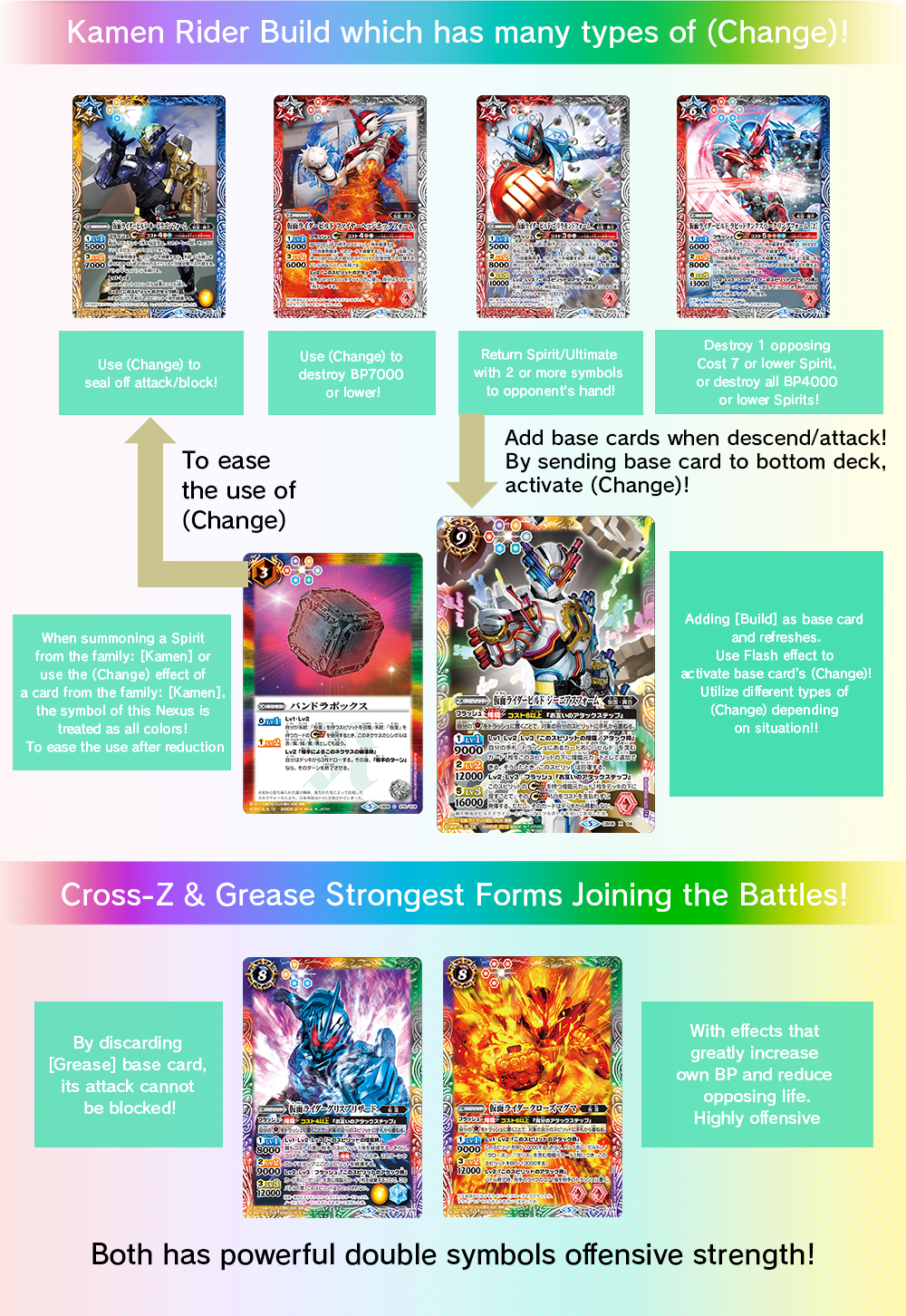 [Kamen Rider Build Genius Form] is a Radiant Descent Spirit card which utilizes base cards!
When descends/attack, can send 1 card containing the name: [Build] from your hand/Trash to the bottom of this Spirit as a base card and refreshes. During Flash timing, by sending a base card with [Change] effect to the bottom deck, activate that [Change] effect without paying the cost!
Utilize different types of powerful (Change) depending on situation, and build up an environment that is advantageous to the battle!
All Color
I am the King of Kamen Rider

The new Kamen Rider series [Kamen Rider Zi-O] possess the support to further strengthen (Change) effects, suitable to be used in any Kamen Rider deck.
The reduction symbols are able to change color depending on the deck's needs. Combine together with Kamen Rider both previously appeared and newly joined to create a powerful deck!!!
Purple
Kamen Rider Kiva Appears! [Go Kiva!]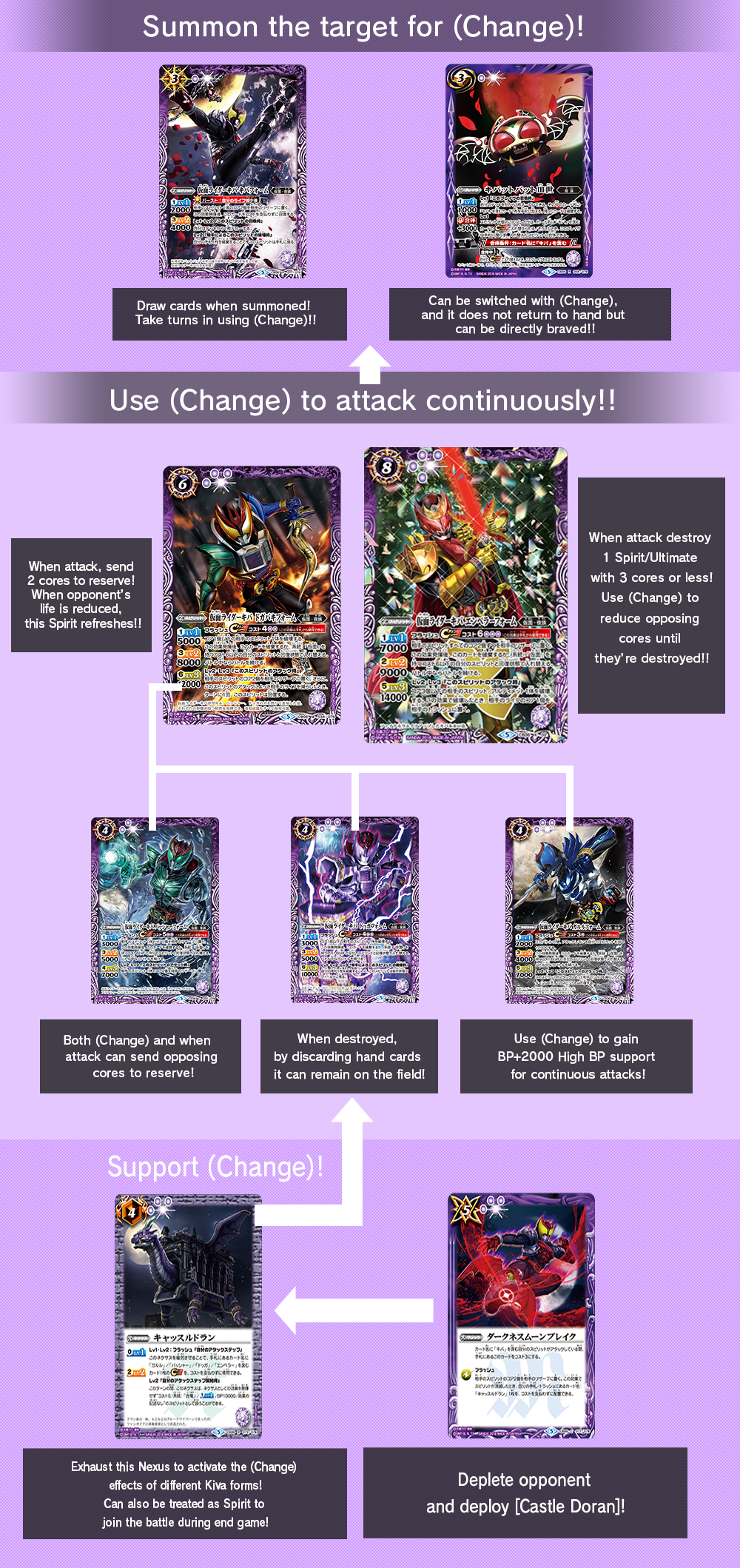 Main purple [Kiva] Deck, the strategy to utilize the many (Change) in this deck is very effective!!
As long the requirements are controlled, while activating (Change) effect, can switch Spirit cards in refreshed state and attack multiple times!!
Use [Kamen Rider Kiva Emperor Form], keeps activating the effect to remove opposing Spirits' cores to attack while depleting the opponent!!
Red
Kamen Rider Faiz Blaster Form 《Radiant Descent》!!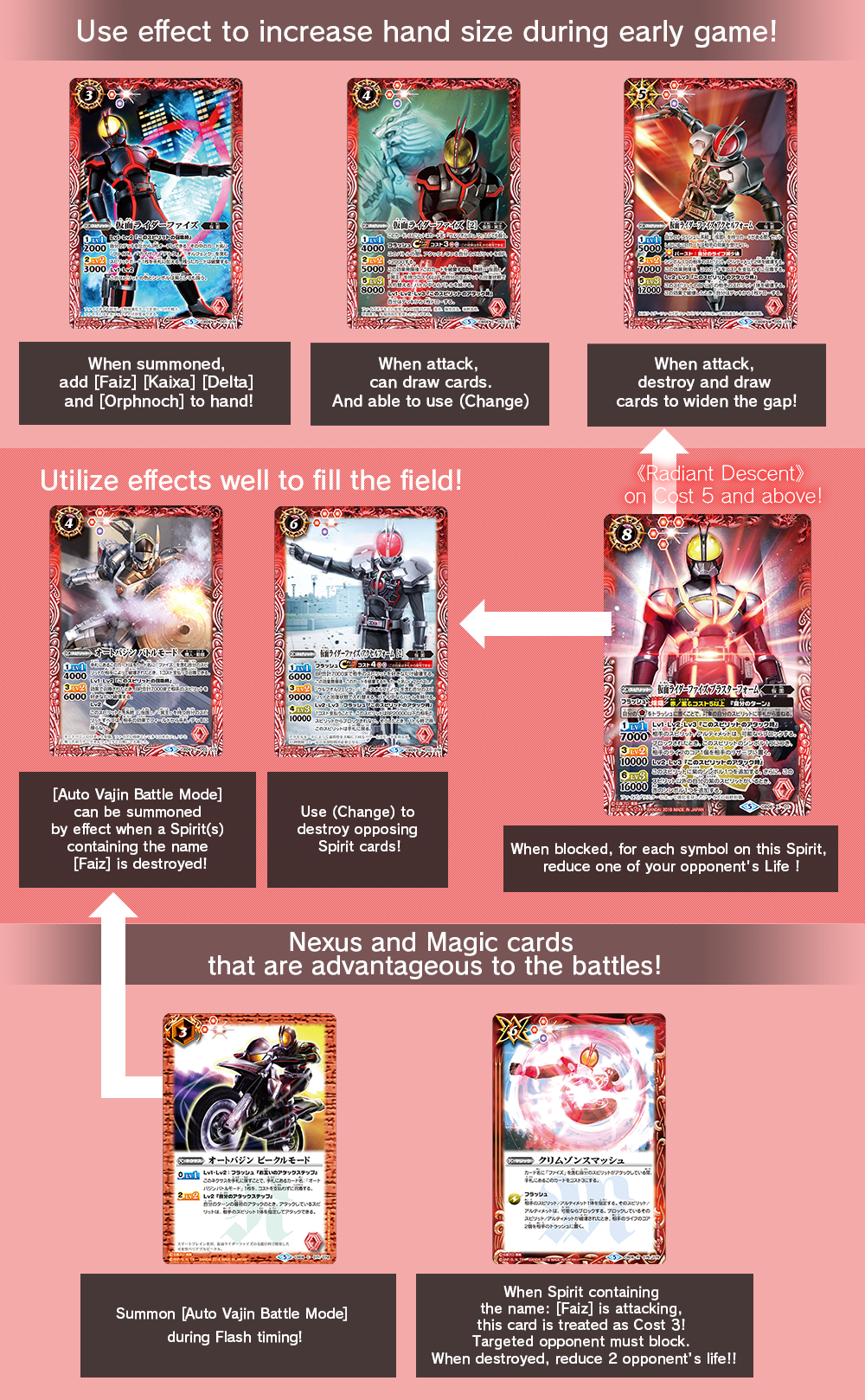 [Kamen Rider Faiz Blaster Form] which has an powerful effect that directly reduces opponent's Life!!
For each symbol on this Spirit, send 1 core from your opponent's Life to Reserve. Make use of effects or Brave to increase symbols to reduce more of opponent's Life!
When attack, combo with the Magic card [Crimson Smash], reducing 5 opponent's Life in one go is not difficult!!
White
Shine bright like a shooting star! The Strongest Golden Gamer!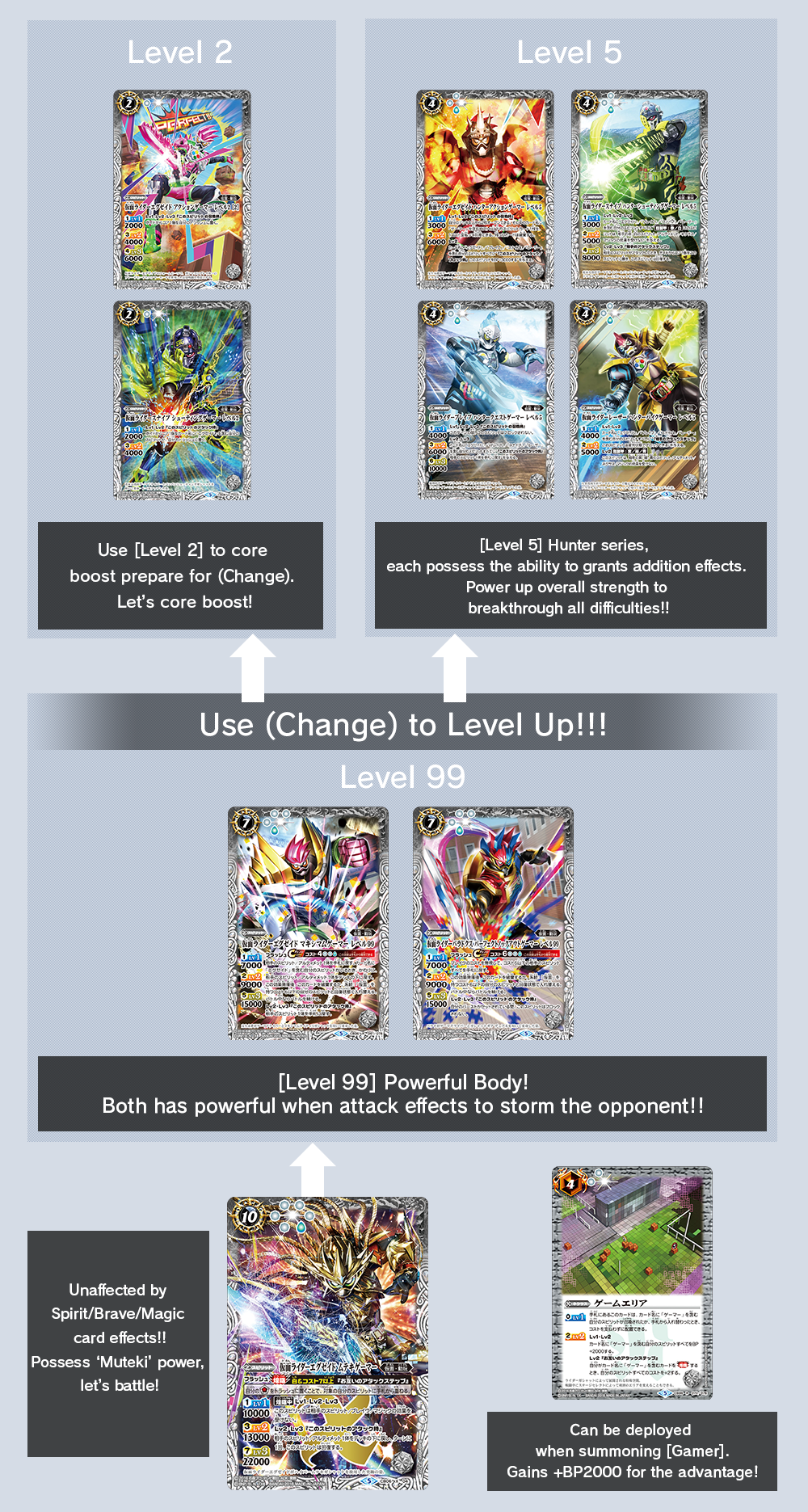 The higher you up [Ex-Aid]'s [Level], the more advantageous it'll be! Use (Change) and 《Radiant Descent》 to attack continuously!
[Kamen Rider Ex-Aid Muteki Gamer] is a powerful Spirit cards unaffected by effects except those from Ultimate/Nexus card.
Use when attack effect o return opposing Spirit/Ultimate cards to bottom deck. After refreshes, prepare for continuous assault!!
See more