Awesome Cards
[CB08] Kamen Rider Collaboration Booster
The Desire, The Ace Card and The Birth of the King

Click the cards for larger images!
KAMEN RIDER ZI-O
Key Points in Early Game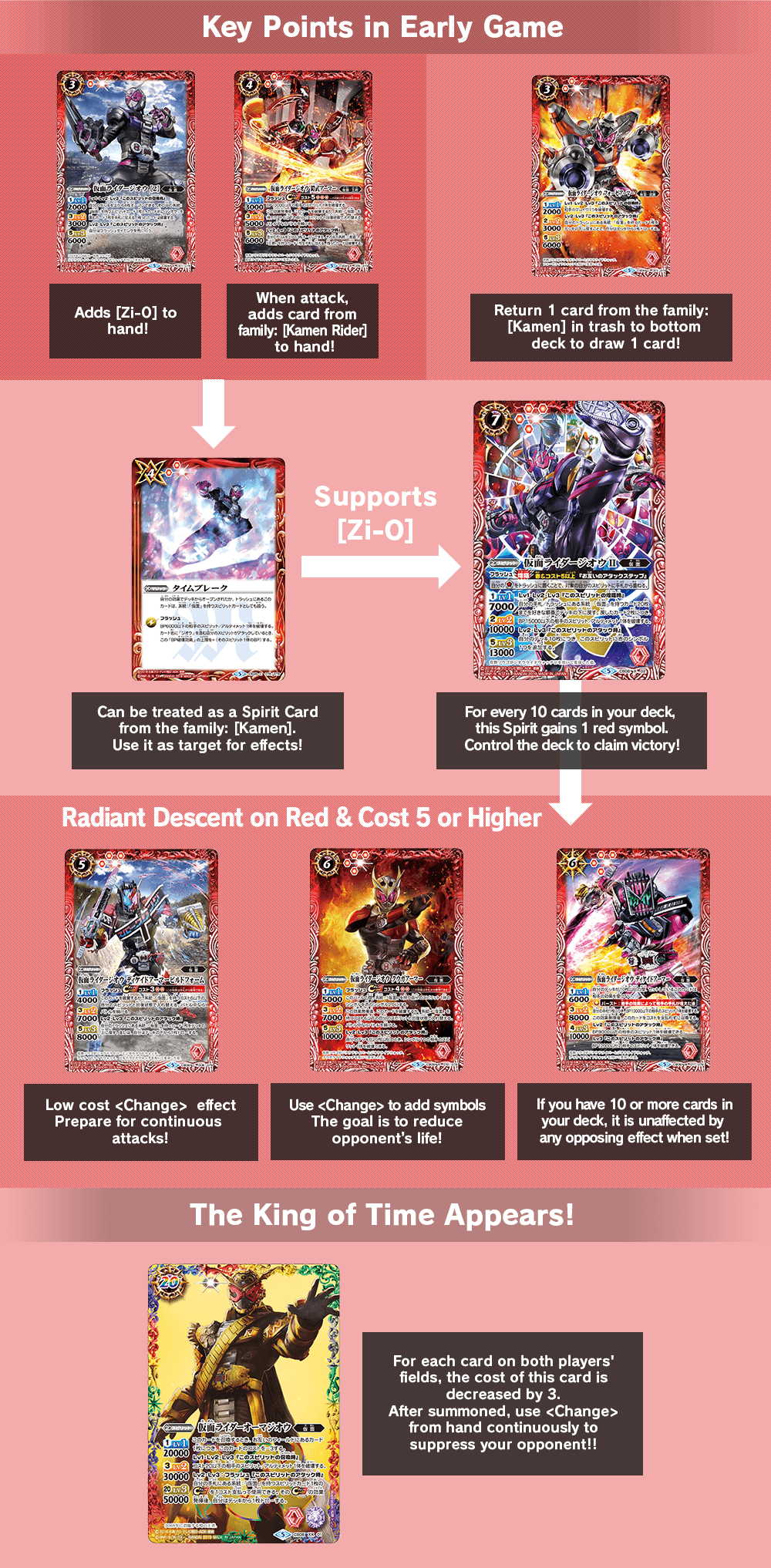 KAMEN RIDER BLADE
Acquire the Trump Card of Fate!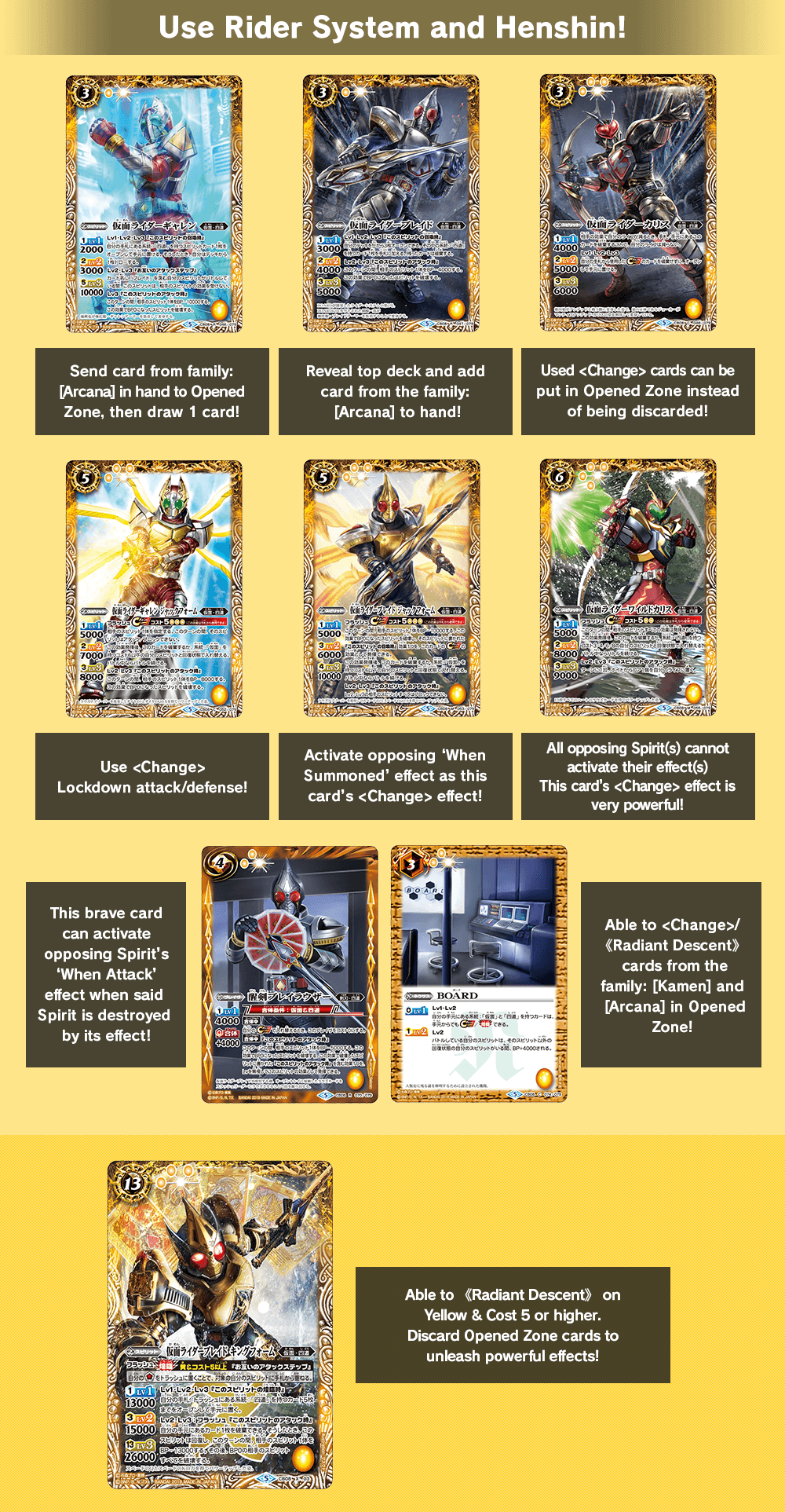 With [Kamen Rider Blade] as the center piece, there are more cards from the family: [Arcana].
Utilize Opened Zone cards to disrupt opponent's strategy and attack relentlessly!
[Kamen Rider Blade King Form] is a card which, the greater the number of cards in Opened Zone,
the stronger the effects can be activated!
KAMEN RIDER KIVA
Power-Up Kiva and Battle!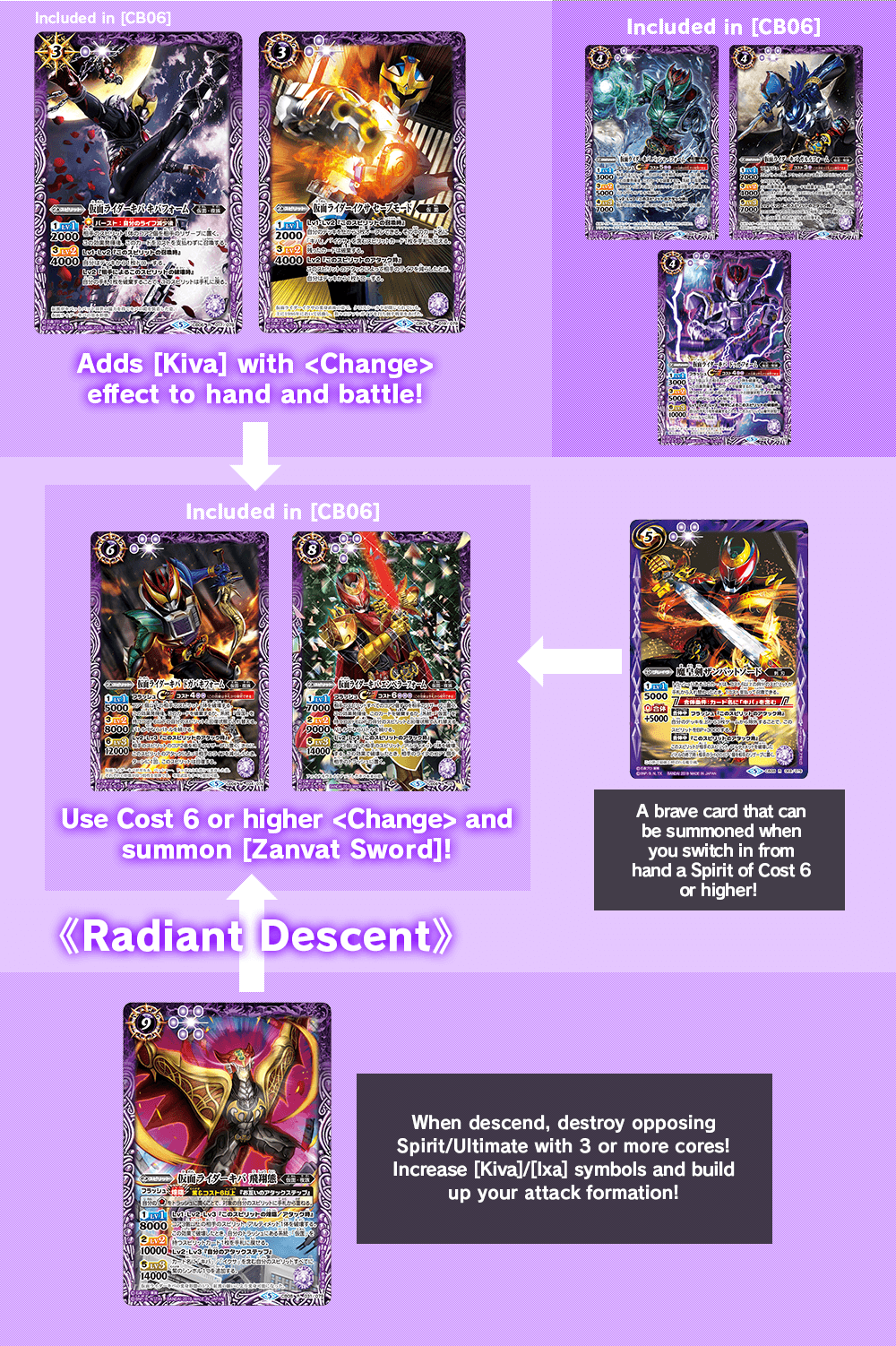 Newly added cards for [Kamen Rider Kiva]!
Use the new cards to activate multiple attack strategies!
Use [Kamen Rider Kiva Flight Style] to 《Radiant Descent》 and power-up [Kiva]/[Ixa]! Victory will be within your grasp!
Greeed
Collect the Medal of Desire!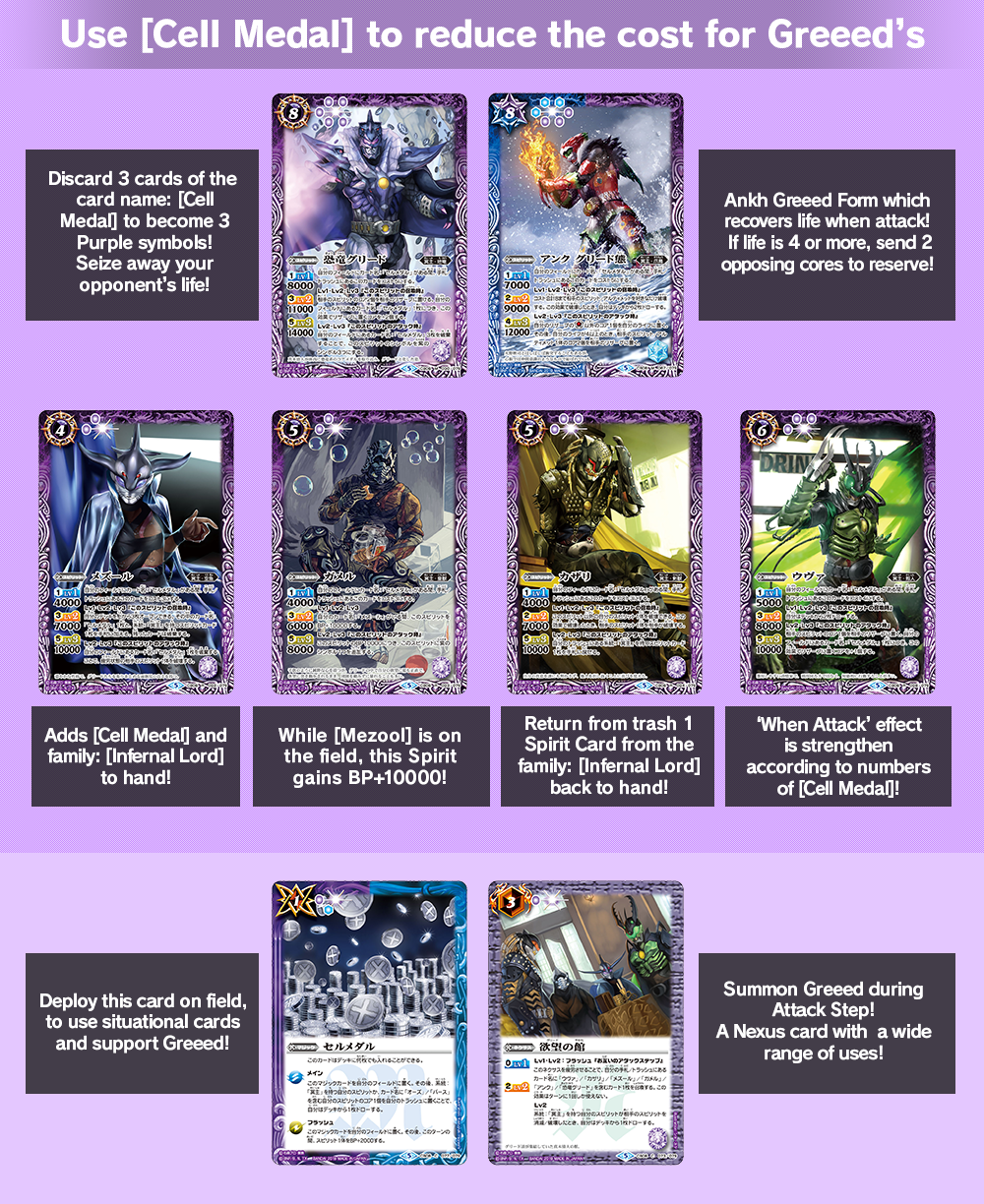 As long as [Cell Medal] is deployed on field, can activate the many powerful effects of Greeed!
Also, adapt the strategy to return or summon Greeed from trash!
Utilize [Cell Medal]'s power to play a powerful strike of [Dinosaur Greeed]!
KAMEN RIDER OOO
Prepare the Different Forms to Activate a Combo Attack!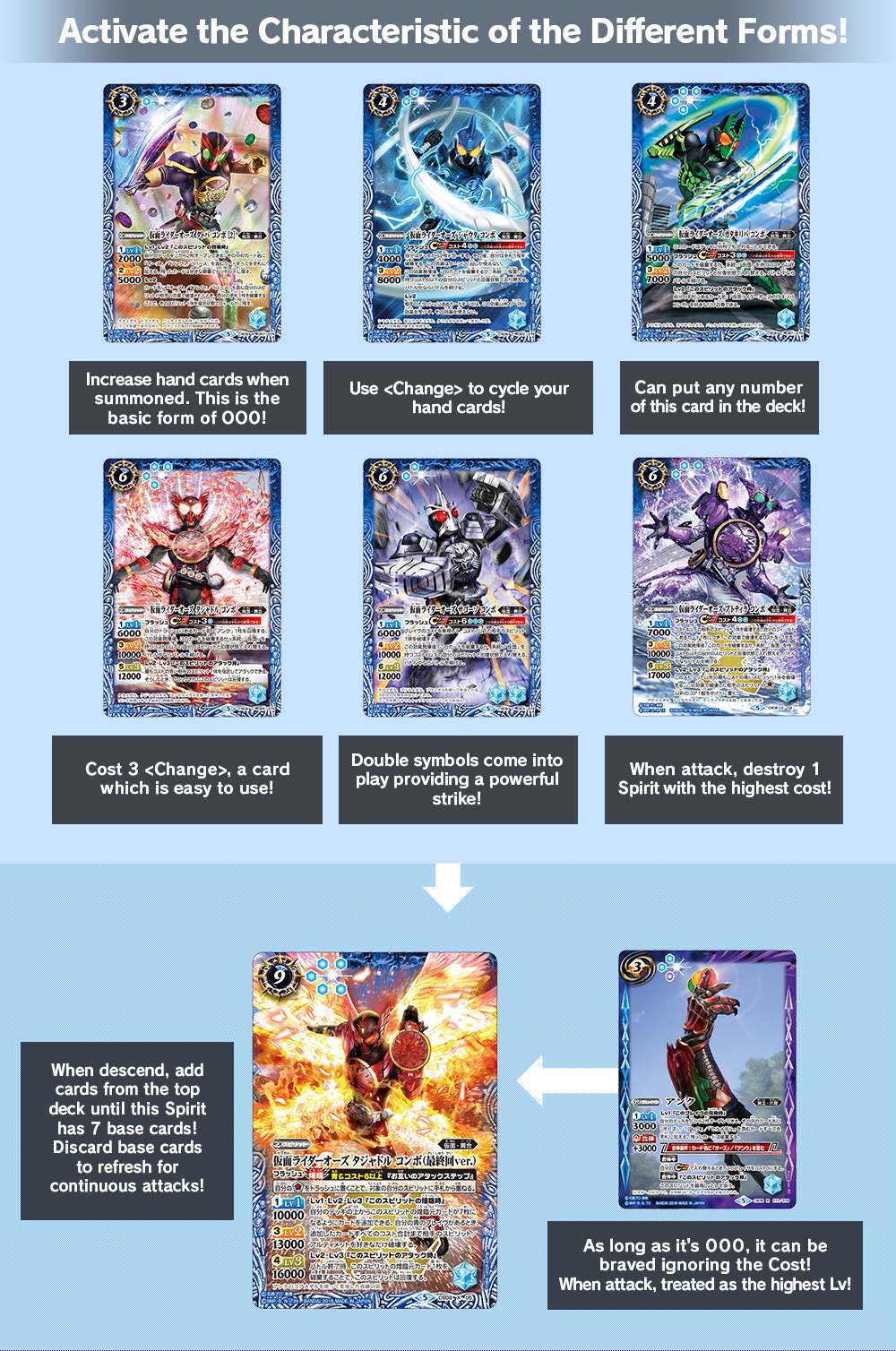 [Kamen Rider OOO] has many forms, utilize the different characteristic of all the forms and battle!
Play [Kamen Rider OOO Tajadol Combo (Final Episode Ver.)] and victory will be close!
KAMEN RIDER EX-AID
The Greatest Talent of God! Use Kuroto Dan's God Descent to claim victory!
Newly added cards which support GranWalker Nexus containing the name: [Kuroto Dan].
[Kamen Rider Poppy Tokimeki Crisis Gamer Level X] can return GranWalker Nexus containing the name: [Kuroto Dan] from Trash back to hand!
New [Ex-Aid] is able to strengthen all [Gamer]!
See more