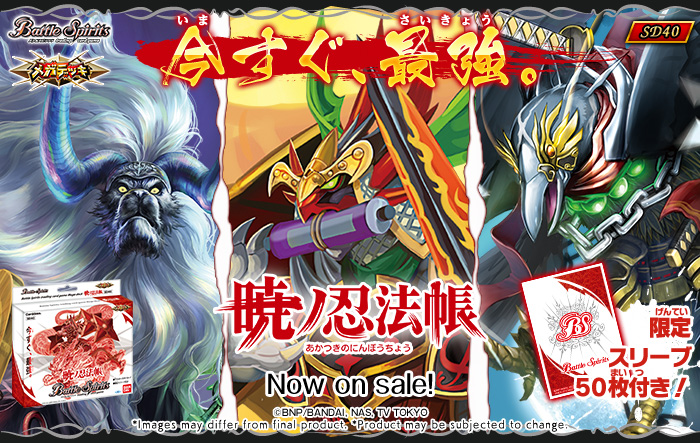 [SD40] Mega Deck[The Dawn of Ninjas]
Card No.
Card Name
Rarity
Cards
Card No.
Card Name
Rarity
Cards
SD40-001
The Wicked Saizo, of the Homura Trio
R
2
SD40-X03
The 33rd Chief of Fumas, Yatagarai
X
2
SD40-002
The Explosive Kayaku of the Homura Trio
C
2
BS31-030
 The Iga Ninja, Rapanther
C
2
SD40-003
The Big Shuriken Izayoi of the Homura Trio
M
2
BS32-021
Sasakunai of Fuma
C
3
SD40-004
The Koga Ninja, Barakiri
C
2
BS33-023
The Koga Ninja, Hyakude
C
2
SD40-005
Kakitsuburi of Fuma
C
2
SD31-07
 Benematoi of Fuma
U
2
SD40-006
 Ikakura of Fuma
R
2
SD31-010
The Ninja Shogun, Kurohagane
M
2
SD40-007
The Iga Ninja, Tachikage
C
2
BSC20-09
 The Koga Ninja, Tobekage
R
2
SD40-008
The Ninja Sword, Reverse Summer Sun
C
2
BS35-069
 Ninja Demon God
C
2
SD40-X01
The Head of Ninjas, Hokage Soul Dragon 
X
2
BS35-069
 Tepponanafushi
C
3
SD40-X02
 The 44th Chief of Iga Ninjas, Shishinobi
X
2
Extra cards
Card No.
Card Name
Rarity
Cards
Card No.
Card Name
Rarity
Cards
BS31-X03
The Chief of Koga Ninjas, Kuwaga Slayer
X
2
PX15-03
The Cancer Ninja, Cancerd
X
2
BS34-X03
The Chief of Iga Ninjas, Toudou
X
1
[SD40] Mega Deck[The Dawn of Ninjas]

*Images may differ from final product.
*Product may be subjected to change.

An all new [Ninja Gale] deck has arrived !
Get your hands on the all powerful Mega Deck now !

50 Limited Edition Sleeves included !

Card types

Total 22 card types

Rarity

10 Commons, 1 Uncommon, 3 Rare, 2 Master Rare, 6 X Rare

Contents

40 prearranged cards, 5 spare cards, 50 sleeves, 1 play sheet, 15 cores, 1 soul core

*Since the cards are prearranged, all boxes' contents are identical.
*Due to the type of the product, all boxes have duplicate cards.

*The cards included in this pack may be used in official tournaments from November 18th (Sat.), 2017.

In stores November 18th (Sat.), 2017!