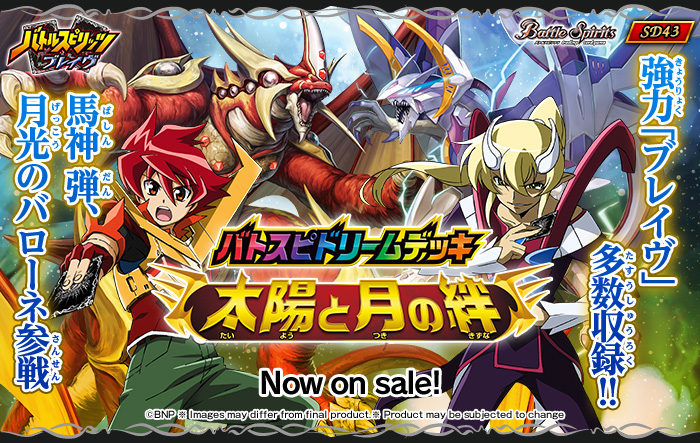 [SD43] Battle Spirits Dream Deck [Bonds of the Sun and Moon]
Card No.
Card Name
Rarity
Cards
Card No.
Card Name
Rarity
Cards
SD43-001
Igua Dragon
C
3
SD43-X02
The Moonlight Dragon Strike Siegwurm X
X
2
SD43-002
Dorado Dragon
C
3
SD43-006
The King Snake, Bendo Viper
C
2
SD43-003
The Targeting Machine Soldier, Muges
C
3
SD43-007
The White Gun Phoenix-Blaster
C
2
SD43-004
Slider Bear
C
3
SD43-008
The Twin Fang Ortho-Lord
C
2
SD43-005
The Gun Machine Deity, Phoenix Saizal
M
2
SD43-RV004
The CannonDragon Bal-Gunner
C
2
SD43-RV001
Bladra
C
2
SD43-009
Brave Draw
C
3
SD43-RV002
The FlameDragonDeity Mars-Dragoon
M
2
SD43-010
Rising Flame
C
2
SD43-RV003
The UranusSacredBeast Slei-Uranus
C
2
SD06-016
Burst Wall
C
3
SD43-X01
The Sun Dragon Sieg-Apollodragon X
X
2
Extra cards
Card No.
Card Name
Rarity
Cards
Card No.
Card Name
Rarity
Cards
SD43-CP01
Bashin Dan
-
2
SD43-CP02
Moonlight Barone
-
2
[SD43] Battle Spirits Dream Deck [Bonds of the Sun and Moon]

*Images may differ from final product.
*Product may be subjected to change.

The Dream Deck from the anime [Battle Spirits Brave] has finally arrived !
[Bashin Dan] and [Moonlight Barone] has transformed into [GranWalker Nexus] together with many strong Braves that is included in this deck !

Card types

Total 17+2 card types

Rarity

13 Commons, 2 Master Rare, 2 X Rare

Contents

40 prearranged cards, 4 extra cards, 1 play sheet, 30 cores, 1 soul core

*Since the cards are prearranged, all boxes' contents are identical.
*Due to the type of the product, all boxes have duplicate cards.

※The cards included in this pack may be used in official tournaments from April 7 (Sat.) 2018.

On Sale April 7 (Sat.) 2018 !