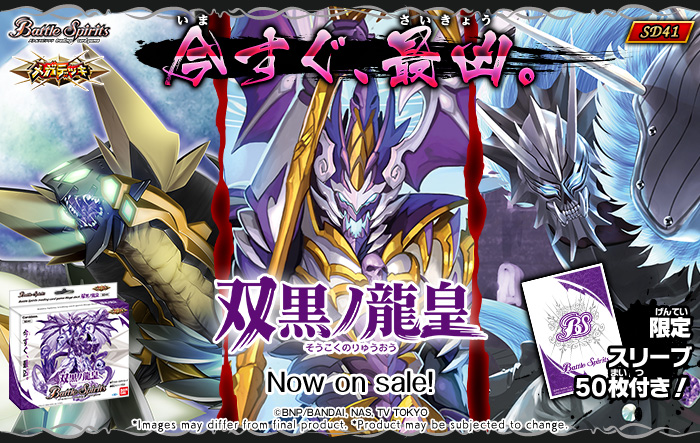 [SD41] Mega Deck [The Twin Black Dragon Emperor]
Card No.
Card Name
Rarity
Cards
Card No.
Card Name
Rarity
Cards
SD41-001
 Death Returner
C
3
SD41-RVX01
 The StarSlayerDragon Darkwurm-Nova
X
2
SD41-002
 The Underworld Fog Dragon,Mistwurm
C
2
BS14-016
 Shikitsuru
C
3
SD41-003
 Smoke Hand
C
3
BS31-013
 Gas Owlet
C
2
SD41-004
 The Underworld Infantry, Curse Soldier
C
2
BS32-010
 Tama Oni
C
3
SD41-005
 Jadgas
C
2
BS33-019
 Purple Smoke Lion
R
1
SD41-006
 The Underworld Demon Dragon,Darkwurm
R
2
SD34-001
 Crystal Needle
C
2
SD41-007
 The Underworld Dragon Emperor,Darkwurm-Regalia
M
2
BSC05-001
 Soul Horse
C
3
SD41-008
 Gun of the Afterlife, Armirally Sphere
M
2
BSC22-035
 Bone-Gladiator
C
1
SD41-X01
 The Underworld Illusion Dragon,Siegfried Necro
X
2
BS30-075
 Necroblight
R
1
SD41-X02
 The Underworld Marshal, Burgharts
X
2
Extra cards
Card No.
Card Name
Rarity
Cards
Card No.
Card Name
Rarity
Cards
BS31-017
 The Armored Fighting Ogre, Rashou
M
1
BSC21-005
 The Demon Blade, Murasame
M
2
BSC22-049
 The PhantomKnight Nightrider
M
2
[SD41] Mega Deck [The Twin Black Dragon Emperor]

*Images may differ from final product.
*Product may be subjected to change.

The all popular [Purple Rush] deck now with <<Radiant Descent>> !
Get your hands on the all powerful Mega Deck now !

50 Limited Edition Sleeves included !

Card types

Total 22 card types

Rarity

11 Commons, 3 Rare, 5 Master Rare, 3 X Rare

Contents

40 prearranged cards, 5 spare cards, 50 sleeves, 1 play sheet, 15 cores, 1 soul core

*Since the cards are prearranged, all boxes' contents are identical.
*Due to the type of the product, all boxes have duplicate cards.

*The cards included in this pack may be used in official tournaments from November 18th (Sat.), 2017.

In stores November 18th (Sat.), 2017!