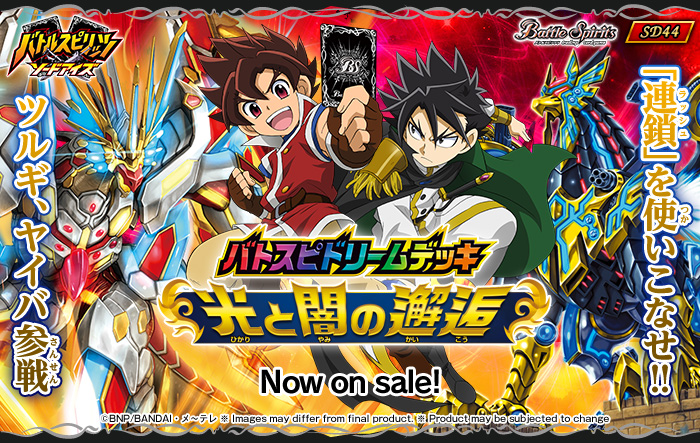 [SD44] Battle Spirits Dream Deck [Confrontation of Light and Darkness]
Card No.
Card Name
Rarity
Cards
Card No.
Card Name
Rarity
Cards
SD44-001
Boride Dragon
C
2
SD44-X02
The Dark King of the Machine Beast, Darkness Griffon X
X
2
SD44-002
The Sun Proterctor, Oleoar Dragon
C
3
SD44-RV003
The Sacred Radiant Sword, Shining Sword
M
2
SD44-003
The Light Sword Saint, Grand Crossdragon
C
2
SD44-RV004
The White Night Treasure Sword, Midnight-Sun
M
2
SD44-004
The Sword Master of the Flying Blades, Edge Master
C
3
SD44-007
The Dragon Gun Battery
C
2
SD44-005
Darkness Cocadoryu
C
2
SD44-008
The Hollowed Cave of the Glistening Sword
C
2
SD44-006
The Sword Saint of Darkness, Total Eclipse
C
2
SD44-009
Shining Burst
C
2
SD44-RV001
The Sword Master of the Demon Flame, Schmarud
C
3
SD44-010
Edge Dream
C
3
SD44-RV002
The Armored Sword Saint, Minotaurs
C
3
BS32-078
Limited Barrier
C
3
SD44-X01
The Shine Dragon Deity, Shinning Dragon Overray X
X
2
Extra cards
Card No.
Card Name
Rarity
Cards
Card No.
Card Name
Rarity
Cards
SD44-CP01
Tsurugi Tatewaki
-
2
SD44-CP02
The Midnight King, Yaiba
-
2
[SD44] Battle Spirits Dream Deck [Confrontation of Light and Darkness]

*Images may differ from final product.
*Product may be subjected to change.

The Dream Deck from the anime [Battle Spirits Sword Eyes] has finally arrived !
[Tsurugi Tatewaki] and [Midnight Sun King Yaiba ] has transformed into [GranWalker Nexus] together with many strong cards with [Rush] that is included in this deck !

Card types

Total 17+2 card types

Rarity

13 Commons, 2 Master Rare, 2 X Rare

Contents

40 prearranged cards, 4 extra cards, 1 play sheet, 30 cores, 1 soul core

*Since the cards are prearranged, all boxes' contents are identical.
*Due to the type of the product, all boxes have duplicate cards.

※The cards included in this pack may be used in official tournaments from April 7 (Sat.) 2018.

On Sale April 7 (Sat.) 2018 !