Battle Spirits Trading Card Game
[SD45]Collaboration Starter Digital Monster
Digimon The Chosen Children
Pre-made Starter Decks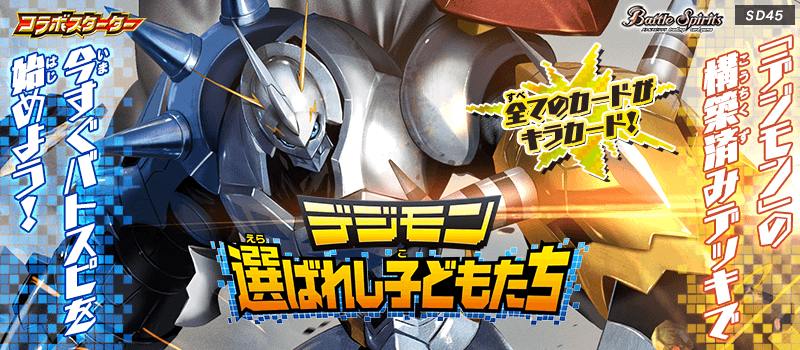 Now on sale!
©>©BNP/BANDAI, NAS, TV TOKYO *Images may differ from final product. *Product may be subject to change.
The all time favorite [Digimon] now comes in a deck !
You can summon Omegamon without [Evolution] !
Now join [The Chosen Children] and their Digimon into battle !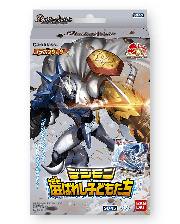 [SD45]Collaboration Starter Digital Monster Digimon The Chosen Children

Card types

Rarity

Contents

On sale May 26th (Sat.) 2018!

* The cards included in this pack may be used in official tournaments from May 26th (Sat.) 2018.
* Since the cards are prearranged, all boxes' contents are identical.
* Due to the type of the product, all boxes have duplicate cards.
Cards included in deck
| Card No. | Card Name | Rarity | Cards |
| --- | --- | --- | --- |
| SD45-001 | Agumon [2] | C | 3 |
| SD45-002 | Greymon [2] | C | 3 |
| SD45-003 | MetalGreymon [2] | C | 3 |
| SD45-004 | Leomon [2] | R | 2 |
| SD45-005 | WarGreymon [2] | C | 2 |
| SD45-006 | Omegamon [2] | M | 2 |
| SD45-007 | Gabumon [2] | C | 3 |
| SD45-008 | Garurumon [2] | C | 3 |
| SD45-009 | WereGarurumon [2] | C | 3 |
| SD45-010 | MetalGaruru [2] | C | 2 |
| SD45-011 | The Crest of Courage | C | 2 |
| SD45-012 | The Crest of Friendship | C | 2 |
| SD45-013 | Evolution Draw | C | 3 |
| SD45-014 | Evolution Shoot | C | 2 |
| SD45-X01 | Omegamon Merciful Mode | X | 2 |
| SD06-016 | Burst Wall | C | 3 |
Extra cards
Card No.
Card Name
Rarity
Cards
SD45-CP01
Hououmon
CP
1
SD45-CP02
HerakleKabuterimon
CP
1
SD45-CP03
Rosemon
CP
1
SD45-CP04
Seraphimon
CP
1
SD45-CP05
Holydramon
CP
1
SD45-CP06
Vikemon
CP
1