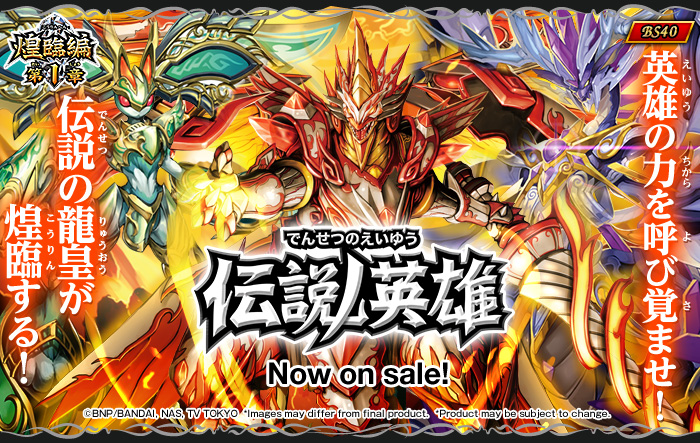 Battle Spirits [BS40] Radiant Descent Saga Volume 1: Legendary Hero

*Images may differ from final product.
*Product may be subject to change.

Heroes like [Sieg] and the [God-Kings] make their Radiant Descent, and past Spirits are revived!
Includes 3 of the "Radiantstone 12 Crystals"X Rare Spirits based on birthstones!
It features the Spirits from May, June, and July!

Card types

Total 115 cards+3 cards

Rarity

75 Commons, 24 Rares, 8 Master Rares, 6 X Rares, 2 XX Rares, 3 campaign X Rare cards

*The cards included in this pack may be used in official tournaments from April 29th 2017.

April 29th (Sat.) 2017 on sale!
* Revival cards have a different card number, the previously released cards will not be edited. However, since they share the same card names, up to 3 total between new and old may be used in a deck.
Promotion Details
Awesome card features!

Announcement of wrong printing on card

We found that wrong text had been printed on the following cards in the [BS40] Radiant Descent Saga Volume 1: Legendary Hero.
Correction details as followed.

BS40-X05「火の熾天使アラフィエル」(Flame Seraph Araphiel ), without the text"このスピリットと"(this spirit and) had been printed.
Please use this card as "このスピリットと"(this spirit and).
And, the card name「熾天使」had been printed in Japanese with 「しきてんし」, the corrected text is 「してんし」.

BS40-040「銃皇機ジークムント」 (Gun-King Machine Siegmund ) BS40-041「煌めきの女神エルダ」(Eda, the Radiant Goddess) BS40-072「凍りついた海原」(Frozen Sea), Please use these cards as "相手の"(opposing)

This announcement is applicable to official event, unofficial event, and free play.

No other cards aside from those with text correction (mentioned above) will be changed.
We apologize for this mistake.

As above is the announcement of wrong printing on cards.
Thank you for your understanding.