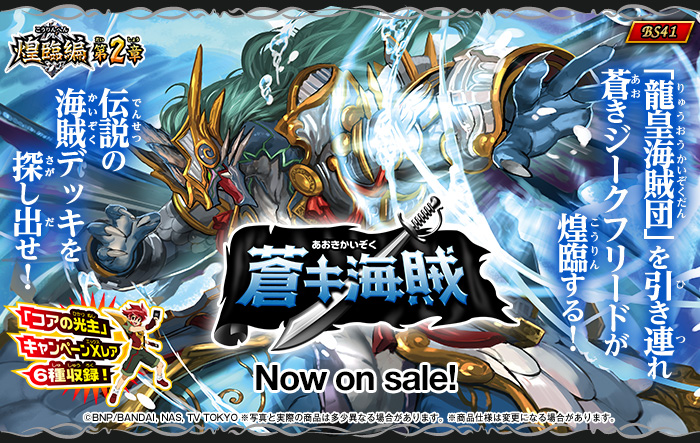 Battle Spirits [BS41] Radiant Descent Saga Volume 2: Pirates of the Blue Seas

*Images may differ from final product.
*Product may be subject to change.

The Blue Siegfried [Dragon Emperor of Pirates, Siegfried Abyss] will «Radiant Descent» and lead the Dragon Emperor Pirates to Victory!
6 Different Key Spirits of [The Chosen] will be included as Campaign X Rares !
Spirits from August to October of [The Twelve Radiantstones] will make their appearances!

Card types

Total 115+9 types

Rarity

Rarity 75 Commons, 24 Rares, 8 Master Rares,
6 X Rares, 2 XX Rares, 9 Campaign Cards

*The cards included in this pack may be used in official tournaments from July 29th 2017.

In stores July 29th (Sat.) 2017!
* Revival cards have a different card number, the previously released cards will not be edited. However, since they share the same card names, up to 3 total between new and old may be used in a deck.