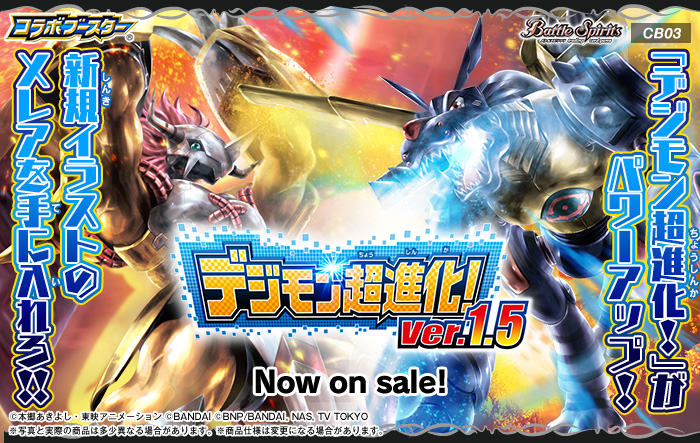 [CB03]Battle Spirits Collaboration Booster Digimon Super Evolution!Ver. 1.5

©本郷あきよし・東映アニメーション ©BANDAI
*Images may differ from final product.
*Product may be subject to change.

Includes all the cards in "Digimon Super Evolution ! Booster",
and further features brand new illustration for selected cards !
Returning as Ver. 1.5 !

■Includes 8 X Rare with new illustrations
■New illustation of 「Diablomon」is added and the chance of getting it has increased !
■Includes 2 Promotional cards 「Raguerumon」、「Ophanimon-Falldown mode」 with new illustration
■A New card 「Zubamon」 is included for every Box purchase

Card types

Total 86+2 types

Rarity

45 Commons, 24 Rares, 8 Master Rares,
8 X Rares, 1 XX Rares, 2 Campaign Cards
● 6-card booster pack

*The cards included in this pack may be used in official tournaments from February 10th (Sat.) 2018.

In stores February 10th (Sat.) 2018!